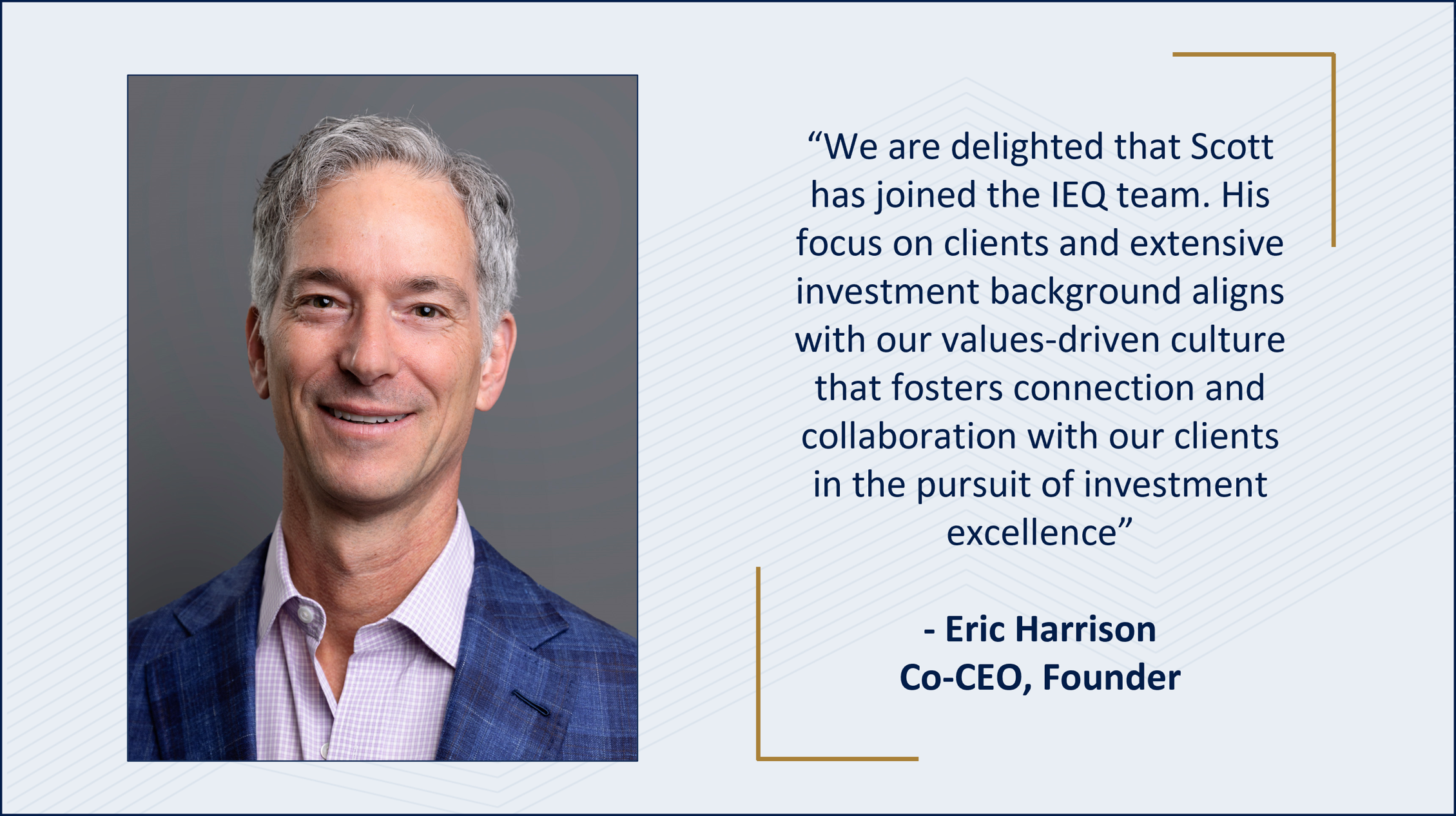 We are delighted to welcome Scott Gutterman to IEQ Capital ("IEQ") as a Managing Director based in our San Francisco Bay Area office. In his new role, Scott will continue to work with founders, entrepreneurs, professional investors, and C-suite executives in the pursuit of investment excellence. Scott will join the IEQ Investment Committee and support the continued growth of the firm's family office capabilities and initiatives. 
At IEQ, we seek to partner with individuals who embody the critical integration of the Intellectual (IQ) and Emotional (EQ) factors, and to generate exceptional investment results driven by a values-oriented culture that fosters connection and collaboration with our clients. We believe Scott will be a wonderful addition to the IEQ family in addition to bringing his experience and expertise to our team.
We asked Scott to share what drew him to IEQ: "I have long admired the way IEQ (and its predecessor firms) has built its alternative investment platform that focuses on originating opportunities, thoroughly researching each new investment, and investing partner capital alongside clients to create alignment. I am super excited to join a team that continues to innovate, leverages best-practices it has developed over decades, and utilizes technology to deliver solutions that support clients' most complex service and investment objectives. The firm's entrepreneurial ethos, highly talented professionals and diverse and prominent clientele attracted me to the opportunity. At this stage of my career, I'm thrilled to be part of a tightly knit partnership that is focused on creating successful client outcomes".
Prior to joining IEQ, Scott was a private wealth adviser and senior portfolio manager at UBS Private Wealth Management ("UBS") co-managing a successful multi-family office advisory practice.  Prior to UBS, Scott worked in a similar capacity in private banking at Credit Suisse Securities. Earlier in his career, Scott worked as an investment banker for Bank of America in mergers and acquisitions and Merrill Lynch & Co. in corporate finance.